We work with other rescues, always trying to save as many dogs as we can. When I received a phone call from a volunteer at a high kill shelter in a neighboring county, they were desperately trying to find fosters for several labs that had been dropped off and were in danger of being put down due to the over population. I took the volunteer's information and told her I would try and that we were full at our rescue, but I would do the best that I could and check with some of our fosters for any open spaces. A few hours passed and the volunteer called again. They were down to only three and were begging for help again. There were two males and one female left. They had a possible chance of someone taking the boys but things were not looking good for the female. So I asked her to send me some pictures. This would help to find a foster if they could see her lovely face. A few more hours passed, and it is now 9:00 pm. The volunteer calls again. They have found a place for the two boys, but the shelter wants to euthanize the female because the have just discovered that she is pregnant. I feel my heart sink. The volunteer's voice is soft, she really doesn't know what to say. There is a moment of silence and then her words slice through me like a knife, "she is only 10 months old." I know I sat there and held the phone for what seemed like an eternity while all these thoughts ran through my head… "Our rescue is so full. We have to say no sometimes and you just can't save them all. But it is so hard to make that choice sometimes. But it is just not fair. All of the other labs have finally found a home but her and just because she is going to be a Mom, she has to die. Why? Why doesn't anyone want her? I saw her picture and she is beautiful. She is so young and about to be a mother. She has the right to have her babies." At that moment, I decided I didn't care about anything else. I told the volunteer, "I will take her."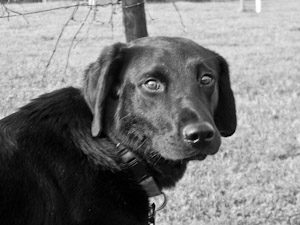 When I picked up the female lab the next morning, I was met with the saddest brown eyes I have ever seen. They were shy and lonely. I just wanted to reach out and hold her and make all the bad things that scared her go away. I had not decided on a name for her until that moment. Her soft eyes and shiny black hair could only be a Mandy. So I took Mandy back to Peace, Love and Animals to become a part of our family.
The next major hurdle was a trip to the vet. Prenatal care for any new mother, be it woman or canine, is very important. After an ultrasound to definitely confirm the pregnancy and a complete check up, things were looking pretty good. As we are sitting with the vet for the usual consultation, she asked if we had any idea who might have fathered the litter. It was our understanding that the Mandy was brought in with her two brothers. This was bad news. Our vet informed us that if one of these was the father, we have a 50% chance of problems with this litter. She wants to know if we want to abort the litter. Again, my heart sank. There is only one answer for that question…"No." Peace, Love and Animals strongly believes in pro-life. A mother has a right to have her babies. The problems we may face can be physical deformities or we can have a perfectly healthy litter. We will take that chance. We are estimating she should have her babies sometime in early April. She is with us now and will only receive the best of care. What is meant to be, will be, and will be loved regardless. Mandy is probably the sweetest dog I have encountered in a long time. This will be the third litter of puppies to be born here at Peace, Love and Animals. It is exciting and it brings so much joy and happiness to see the newborns. I will pray every night for that 50%... for Mandy's sake.
Blessing to you all,
Cathy Oakley
Director Peace, Love and Animals
*** UPDATE: Mandy had her puppies on March 31st and they are all healthy! ***
---
If you would like to contribute to helping Mandy, please donate or This email address is being protected from spambots. You need JavaScript enabled to view it. for more information