It sounds sad to say that the most amazing part of fostering a dog is seeing that dog go to his or her new forever family, but I guess it follows along with the old "If you love something, let it go" adage, right?
Back in July of 2010, Katie and I (Melissa) took in a litter of nine puppies to foster. These nine came from a rural area Northwest of Athens, and were the product of an accidental mating between the family's dog and a stray.
Side note here - spay and neuter your pets!
When they came to us, these kids were only 8 weeks old and weighed around 5 pounds each. If you've been 'friends' of our page for a while, I bet you remember :) NINE is a lot of puppies to start with, but hey, if you're going to aim high might as well shoot for the moon, right?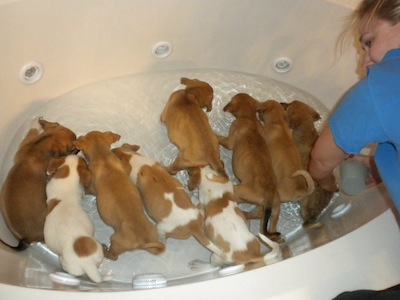 From left - Zoey, Dempsey, Xander, Fiona, Carter (top), Delilah, Quinn, Apollo, Shelby
And so, like all puppies, these nine (NINE) kids proceeded to chew and poo and play and sleep and cry and eat, and do all sorts of puppy things - some cute, some not, but even through the frustration we loved our jobs as foster moms :)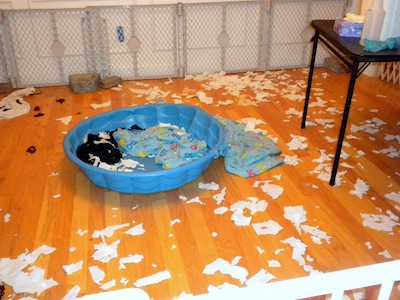 Don't leave the paper towels where the puppies can get them... This is NOT snow. PS - this is not normal if you just foster one dog. NINE puppies, people.
10 days after their second parvo vaccination, the first of 'our kids' went to her new home - Quinn.
Quinn was adopted by a super awesome dad and actually lives kind of close to us - so this first adoption wasn't too hard. I guess we expected to cry when she left - Katie had a particularly strong affinity for 'Quinnie' - but as soon as we set Quinn down in her new home and she took off to explore, we knew she would be just fine.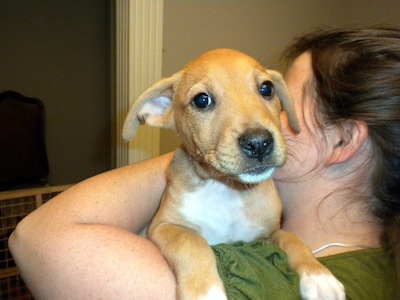 Quinnie, before dinner one night - put down that camera and feed me!
Our second kid went home the day after - Delilah. In the litter of nine, we had three puppies that had white in their coats (Dempsey, Delilah, and Fiona). Dempsey had the most white - Fiona had the most brown. So our 'middle white kid' went to live with her new mom and dad in a place that was also pretty close by! We were getting lucky with these, right? Delilah's new mom and dad had come to the house multiple times before she went home just to play with her, so we were definitely very happy about her new family.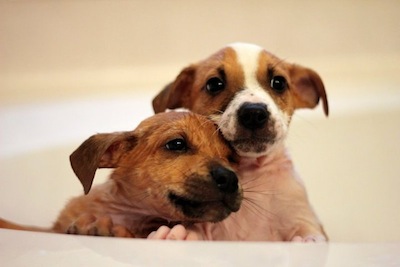 Delilah and 'little sis' Zoey, sharing the trauma of bathtime
The third of our babies to go home was Apollo - the little golden boy :) Apollo had the curliest tail of the whole litter, and that and his color (gold, as opposed to brown) were what set this cutie apart. Apollo was adopted by an amazing family AND a big puppy brother named Riley! How lucky is he? He was renamed Hunter, and dove right in to his new awesome life with Riley and his mom and dad :)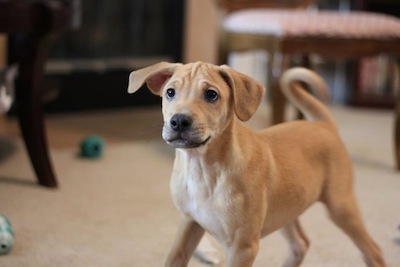 Sweet golden boy Apollo, now Hunter
Fiona, who we called 'Fearless Fiona' at the time (anyone watch Burn Notice?) was the next kid to leave us. Fiona was one of the most outgoing of the litter - when the 9 babies arrived (who had obviously not been handled at all before 8 weeks) and would shy away if we reached for them, Fiona would jump right in our laps. Fiona left us to go to a home with three kids in the Athens area - again, close by!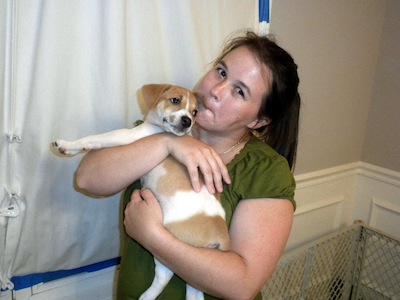 Fiona and some weird lady
Around this time we received an application for Zoey - but the catch? This family lived in Massachusetts! The application was wonderful, and Zoey would have a little boy of her own to play with, but Katie and I were nervous - a long road trip for 'our little girl'? Thanks to the crew at Road Dogs Transport, Zoey's trip 'up north' was simple and easy - she made it in just over a day and embraced her new boy and family like the sweet cuddlebug she is!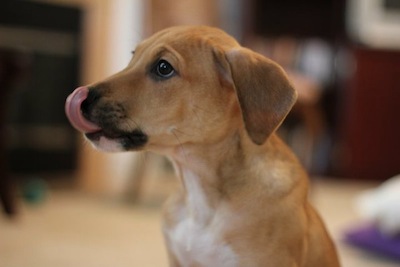 Zoey is a little ball of fun!
Four left? :)
Around November of 2010, I had to travel for work and around that same time, we received a great application for Shelby. Shelby is a charmer. A lady wanted a companion to stay with her at home while her husband was at work, and Shelby seemed like just the right friend! So while I was out of town, Katie and Cathy took our sweet Shelby to her new home, and it looked like things would be just right.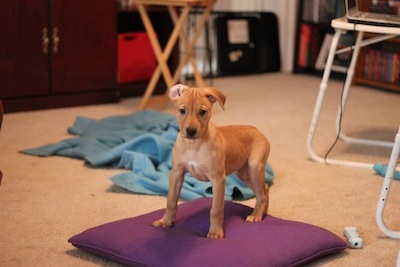 Shelby, in the mess of our living room!
Christmas was spent with Xander, Carter, and Dempey - lots of playing in the snow (snow!) and cuddling by the fireplace. Then one morning just before the new year, we got a message from someone interested in Xander. Turns out, this someone was the fiance of Quinn's dad! When Quinn came over, along with her dad and his fiance, to play with her three brothers she and Xander played like they had never been apart :) And so Xander went to live with his sister and their newly formed family - how exciting is that?!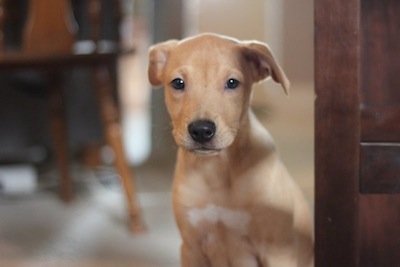 Xander always had the sweetest face!
Two left?
Or so we thought.
One of the benefits of being part of a no-kill shelter is that any time a dog we adopt out cannot be kept, they can come back to us at any time. Around the end of January we got a call that Shelby was coming back. The way we understand it, the husband of the woman who adopted her never really made an effort to interact with Shelby and, because of this, Shelby considered him a stranger. Any time he was in the house, Shelby would hide under tables or behind the couch. Feeling that this wasn't a good environment for Shelby, and taking into account that her husband was not willing to be the one to bond with a dog, Shelby's adoptive mom returned her to us. It was a hard decision for her, and she was terribly sad to leave Shelby, but we all believe this was the right thing for everyone.
Shelby was welcomed back with open mouths and wagging tails by her brothers :) She isn't shy in our house - she definitely knows we're both the moms, and she even treats our frequent guests (Uncle Ian?) like her own family.
And so there were three.
But then we got a call from the family who adopted Fiona.
Fiona was young, and fairly small when she was adopted by this family - however Katie and I made it a point to tell them that she would probably grow to around 45 pounds. Despite this, at some point, the family decided she was 'too big' and decided to put her outside instead of letting her interact with the family. In addition, because she wasn't treated as a family member, she lacked manners and knowledge of how to interact with the younger kids and so she sometimes played too rough for them. It is for these reasons that the family asked us to take Fiona back.
Of course we took her - like I've already said, she will always have a home with us - but we were saddened by the situation and wish they'd called sooner. Fiona is back home with us now, and again she was welcomed warmly by her siblings, but she has a lot of re-learning to do.
So we're back to four foster kids, and that is just fine. We knew when we took this litter in that it was a commitment until they each had loving families to call their own. The best news in all of this is that FIVE of 'our kids' have found their forever homes and are living life to the fullest! These pictures below, and others like them, as well as stories, videos, and visits with Aunt Katie and Aunt Missy are what make this experience so overwhelmingly enriching and joyful!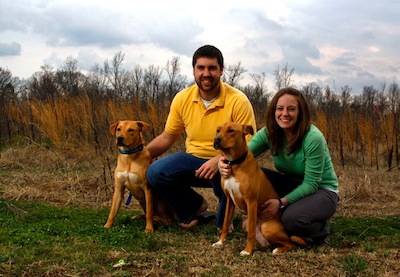 L-R, Xander, his dad Clark, Quinn, and mom Amy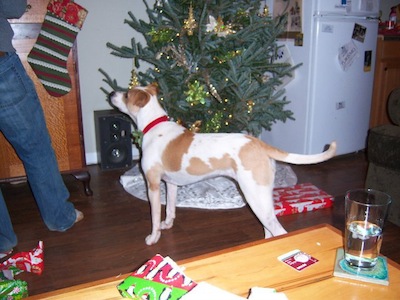 Delilah's first Christmas!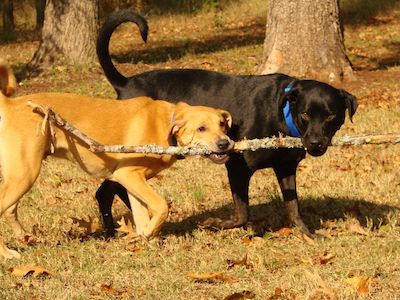 Hunter and his AWESOME big bro Riley! Brothers make the best friends :)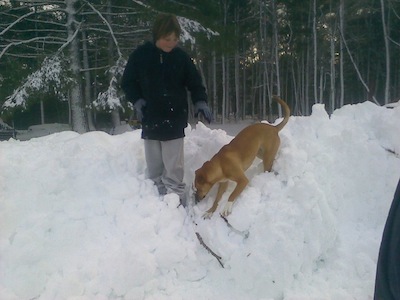 Zoey and her boy Zack, playing in the snowbanks in Massachusetts
As for the rest of us? :)
Shelby and Fiona are listed as available again on Petfinder, though we plan to work with Fiona for a bit longer on manners, and just building her self-confidence :D Carter and Dempsey are available as well, sweet boys. All four are between 45 and 53 pounds, all four get along GREAT with dogs and people, and any of the four would make a wonderful addition to anyone's family. They've grown up around cats too, though Fiona and Shelby have a chase instinct - but they will back off if you give them the 'mom voice'! All four are potty trained, but not immune to an accident every once in a while. None of us are perfect :)
Shelby is so full of love, and simultaneously happy/excited/joyful and solemn/thoughtful. I don't know how she pulls it off, but her demeanor is very sophisticated haha. She is shy around new situations, and new people - but give her a few days and she will warm up. Sure her 'adjustment period' might be a bit longer than other dogs', but it is so worth it to win this girl's love.
http://www.petfinder.com/petdetail/17102419
Carter is the 'lover' of this litter. When the others are off playing and chasing, Carter just wants to be cuddling with you, in your lap, and getting kisses. He's also the klutz! Somehow he always ends up with the scratches and bumps, no matter how hard his siblings are roughhousing! Poor kid :) He loves rawhides and cookies, and while he's wary of new situations also, he tends to warm up a bit more quickly than Shelby.
http://www.petfinder.com/petdetail/17165675
Dempsey is the 'shy kid' of the bunch when he's in new situations - more timid than any of his siblings, and yet is the instigator of all the wrestling that goes on at home haha. Dempsey has amazing soulful eyes that very clearly say "I didn't do it" when there's a spilled cup of water nearby. For all the joking though, he really is just as big of a cuddler as Carter is. Dempsey has been spoiled a bit and if you sit on the ground with him it's almost certain he will plop himself in your lap - he doesn't KNOW that he weighs 50 pounds! While he will require patience with new surroundings and people, the reward of having this sweet boy in your family is endless amounts of love and kisses.
http://www.petfinder.com/petdetail/17102505
Fiona :) Our newest re-arrival. She seems to be getting some confidence back, and is loving having her sister and brothers to play with. Having a consistent routine also seems to be helping her a lot - I know she takes comfort in understanding that, when she hears the garage door open in the evening, dinner isn't far away. Fiona still needs some work on not jumping up on people, and lots and lots of love, but rest assured we will only let this girl go to the most special of families.
http://www.petfinder.com/petdetail/17165772
Above all else we want these sweet babies to find loving forever homes of their own - ones where they can be accepted for the wonderful puppy they are, where they're loved unconditionally, and where they can be happy and comfortable. If you think you might be the right family for one of these kids please feel free to come on by the house any time and visit :) We love visitors. Shelby promises kisses.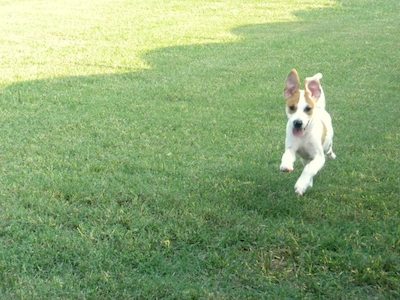 Blessings to all, as we've obviously been blessed,
~ Melissa
---
If this story inspires you to try fostering (whether short-term - like a weekend or week - or however long it takes until the pup finds a home), please check out the fostering section of our website.