You never understand why some dogs get adopted just days after you take them in and some dogs seem to stay with you forever. As a No Kill shelter, these dogs become a part of our family and they began to settle in to our daily routine. To them, this is their home. I really think they know no different, but we do.
When I started Peace, Love and Animals in August of 2009, most of the dogs that I was saving came out of the Athens Dog Pound. I had went in to the Pound one day to pick up a dog, and there was a family in front of me with these two beautiful healthy brothers. They had decided they didn't "want" their dogs anymore and were turning them into the Pound. (This is an issue that really gets under my skin, dogs are not disposable items. People think if they get tired of them, just throw them away, ugh!) So while I was there to get my first dog, I got the information on the brothers and went back the next day to save them from deaths door at the Pound.
You see, the brothers are what most people call common "Alabama Brown Dogs". They are both large dogs and this works against them when getting them adopted. Our goal is to save dogs and find them forever homes. But most potential adopters that walk in our doors will ask, "do you have any small dogs?" or "do you have any puppies". It would be an absolute miracle if someone walked in and asked if I had any "adult large dogs", and it is such a shame because these brothers are such wonderful dogs that have great personalities. They deserve that forever home just like the small dogs and just like the puppies, if someone would just give them a chance.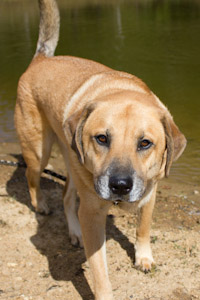 Buddy
Let me tell you about the brothers. My feelings are that when they were cute puppies and their former family took them in with good intentions, thinking that they would get two boys and not have to worry about any of the female issues, and that everything would be just fine. But this can sometimes be a big mistake that we see all the time. If one male is dominant and one is submissive, there is no problem. In the case of the brothers, both happen to be dominant males. As the brothers grew, the need for dominance also grew. First there are issues with space, a fuss here and there, but we laugh it off as puppy fights. As they grow older the dominance over food is the next issue. Sometimes these squabbles can get quite nasty. Once the brothers reached adulthood, the time had come for one to take the alpha role. When there are two really large male dogs in one household, it can get ugly. So, my guess is that instead of trying to solve the dominance problem (and it can be corrected!) the former owners took the brothers to the Pound. They just didn't "want" them anymore. How sad is that? The brothers were not doing anything wrong, only what nature had given them. Dogs are natural pack animals and a pack has to have a dominate alpha to survive. If an owner is not taking the alpha role then the dominate male will step up to ensure the survival of the pack. That is something often forgotten.
Snickers
Of the two brothers,
Buddy
is the larger of the two. He definitely wants to be an inside dog! Could it be that he is just a tiny bit overweight and can't tolerate the heat? Maybe so, but whatever the case, we let him be an inside dog. He goes out to do his business and then right back under the AC he goes. Would you call that spoiled? We hope so. Buddy has the personality that bonds with one person or maybe a couple. He is very laid back and loves to just lounge around. Yes, you can get him up for a walk every now and then but to stretch out for an afternoon nap is his perfect idea of enjoyment. We do not recommend adopting him into a family with children. He does get along well with other dogs although we are not sure about cats. Once Buddy becomes comfortable with you, he is one big Teddy Bear.
Snickers is just a slightly smaller version of Buddy but much more outgoing and independent. Quite the opposite of Buddy. Snickers enjoys being outside and loves to go to the adoption events. He rides great in the car and we have often laughed at how he sits in the passenger seat just like a human, watching out the window. Although Snickers is a little picky about other dogs, he has found a few that he likes to play with. Snickers has one bad habit and that is he loves his people so much that when he is not with them he becomes a "crybaby". I think Snickers would do great in a home with older kids that could really get out and play with him. Big dogs mean big fun!
When I think about Buddy and Snickers, I have really mixed emotions. From a human standpoint, I think how sad that they have not been adopted. They have been here almost 2 years. Then I try to think like a dog. To them, this is their home. Would they miss us if they got adopted? Maybe. But they deserve so much more. We give them a good bed, we give them good food, we give them love, but they still deserve so much more that we can't give. They deserve a family to call their own…
Blessings,
Cathy Oakley
Director Peace, Love and Animals
---
If you are interested in the brothers, please This email address is being protected from spambots. You need JavaScript enabled to view it. for more information or visit Buddy's petfinder and Snickers' petfinder profiles.